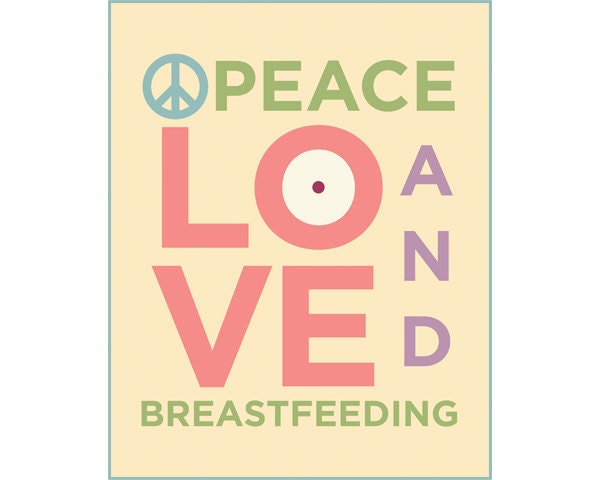 What gets you through motherhood? No, not the fun, cuddly times- that's easy. I'm talking about the hard times. The sleepless nights, the crabby fights with the partner, being covered with poop as you're trying to get out of the house to work, the leaky boobs and crying babies.
Sometimes we need to look at something that inspires us and makes us smile a bit. That's why I'm loving the print designs from the shop Faith Hope Trick Print and Digital Design. Along with birth announcements and party invitations, owner and mother Amy Nucera creates prints that delight the eyes and the mind. I was drawn in by her lovely breastfeeding inspired prints.
Today Amy shares with us her personal experiences with breastfeeding and some advice for mamas who are interested in starting their own businesses. Read on for an interview with Amy and details for how to win a package of her fun and inspiring breastfeeding prints!
What inspired you to create your breastfeeding designs?
Breastfeeding is a cause near and dear to my heart (quite literally, as I am a breastfeeding mother myself). Before I had my daughter, I was only vaguely aware of what breastfeeding entailed, or that there were so many people and places available to me that I could go for help and support. I saw more and more mothers giving up, or not trying at all, because of a lack of education and support. Knowing what a wonderful experience it could be for mother and child I wanted other mothers to have the same opportunity-to educate, encourage and support other women in their breastfeeding journeys.
When my daughter was about a year old I found a wonderful local organization called the Nursing Mother's Advisory Council (NMAC) that shares these goals. NMAC (www.nursingmoms.net) is a non-profit, volunteer organization serving areas of Bucks, Montgomery and Philadelphia counties in Pennsylvania and is comprised of a group of trained volunteer women who have breastfed their children and who wish to help others have a positive nursing experience. NMAC volunteers offer support and counseling, free of charge, without judgment. They offer a bi-annual training class for new peer counselors, which I completed last May. It seemed a natural extension to combine my two passions-design and breastfeeding advocacy-so I created some materials specifically for nursing mama's.
Share some of your personal breastfeeding experience with us.
Breastfeeding has been a wonderful experience for me and my daughter. Going in, I wasn't what you would call "gung ho" about the whole thing. I figured I would try it but honestly didn't expect to stick with it. No one was more surprised than me that we ended up exclusively breastfeeding with such success.
When she was about 5 months old, I had to have a mass removed from my right breast (thankfully, benign). Faced with the possibility of having to stop nursing while recovering, I found that I was more determined than ever to continue. My doctor was very supportive and we were able to get through the surgery and recovery while continuing to breastfeed. Now, I'm breastfeeding a toddler and couldn't imagine having done it any other way. My daughter is happy, healthy and well-adjusted, and I have no doubt that this is in no small part to our positive breastfeeding relationship.
Any advice for new breastfeeding mothers?
Breastfeeding is natural, but it doesn't always come naturally to all mothers and babies (I know it didn't for me). Educate yourself as much as you can beforehand so you know what to expect. Talk to other nursing moms, read books and articles, watch videos, and consider taking a breastfeeding class (offered by most hospitals) some time in your third trimester. Enlist the support of your doctor-make sure he or she knows your intent to breastfeed and that they are supportive. Establish a support system: your baby's father, friends, family, and other nursing mothers.
Breastfeeding can be challenging and time consuming-especially in the first few weeks-and you'll want to have others around to ask questions and provide emotional support. Don't be shy about seeking help when you need it, whether it be from friends, family, a peer counselor or a lactation consultant. You can seek out a support group in your area-even if breastfeeding is going well, these groups are a wonderful way to connect with other nursing mothers and babies. Lastly, be aware that it does get easier as you and your little one get used to each other and find your rhythm.
Any advice for mamas that want to start their own business?
For me, what worked was going with what I knew (graphic design) and combining it with the things I love. My designs tend to reflect things that I enjoy in my own life: pop culture, family, breastfeeding. I believe this makes my designs more personal, and, in turn, more successful. I did a lot of research and started slow, learning from others and from my own experiences how to fine tune my shop and my products.
It's a continual learning curve for me. Get yourself out there and advertise yourself, both on the web and in "real life". If people can't find you, they can't buy from you. I enjoy what I do, which for me is the key to not giving up, even when things are slow. To that end I would also say to not be discouraged if things start off slowly. I didn't make my first sale for a few months after I opened my shop, but business has steadily picked up since then. I may not be ready to quit my day job, but there's something immensely satisfying about selling my own original designs.
Thanks Amy! Check out her prints, birth announcements, party invitations and Christmas designs at her Etsy shop:
www.faithhopetrick.etsy.com.
In addition, Faith Hope Trick is offering two Breastfed readers a chance to win one of two amazing breastfeeding print packages:
Package #1
Package #2
Package 1:
One (1) "Start Your Day With Two Jugs of Milk" print, 8x12"
One (1) "Keep Calm and Nurse On" print, 5x7
Twenty (20) "Thank You for Nursing in Public" cards, 2x3.5"

Package 2:
One (1) "Keep Calm and Nurse On" print, 8x12"
One (1) "Breastfeeding is a Mother's Gift" print (pink), 5x7
Twenty (20) "Thank You for Nursing in Public" cards, 2x3.5"
Follow directions on the Rafflecopter to enter. Don't forget to click "I Did This!" after completing a step. Good luck!