It's a Hoot in natural with sage
It's official. Summer is gone, fall is here, and winter is just around the corner.
What does that mean in your neck of the woods? For us here in Minnesota, it means the end of naked babies rolling around the house in their diapers. Cue the fleece pullovers, heavy pajamas, and the rolling out of the carpets over those wood floors.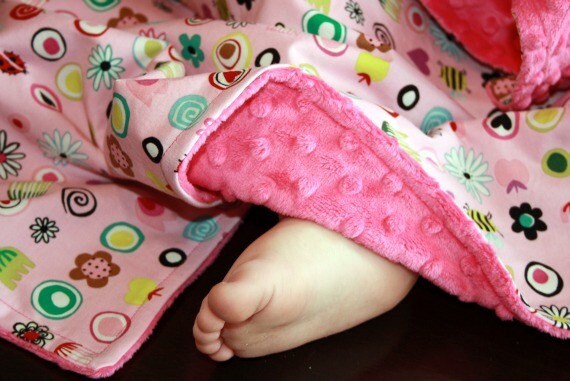 Junebug in hot pink
And blankies.
When we were pregnant with Toddler B and people asked us what we wanted, we immediately replied, "blankies." Our mantra?
You can never have enough blankies.
We repeated it with the coming of Baby S.
For the breastfeeding mother, one piece of advice- keep those blankies handy in the winter! I love skin-to-skin time, and for my winter babies I constantly had a blankie covering their dressed-down bodies during feeding time so that they could stay warm on one side, and soak up some body contact on the other.
Every mother should have a couple of great blankies!
I Spy in blue
That's why I'm so excited to offer Breastfed. readers a chance to win one of these cotton and minky baby blankies from Dandelion Baby!
All of Dandelion Babies blankets are made from 100% cotton designer fabrics on one side and the softest Minky Bubble Dot fabric on the other. The cotton and minky blankies are 32" x 28", perfect for the stroller, car seat, and a snuggly nursing session.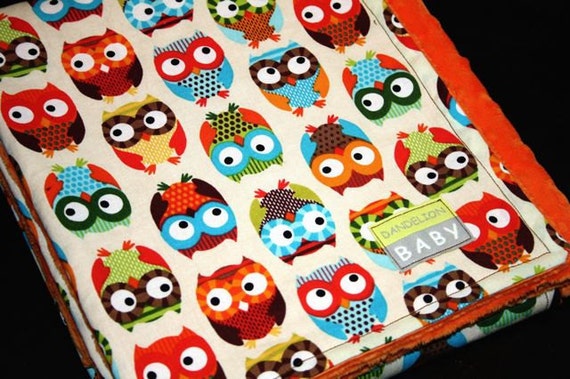 Bright Owl in orange
And the design choices! Dandelion Baby offers so many cute options, we couldn't pick one, so we are leaving it up to you.
The winner will get to pick the blankie design of their choice- 21 super cute options and colors to choose from!
Awesome- good luck!