The burp cloth. How many do you have?
Any mama of little babies would tell you, "never enough".
We currently have anywhere between 15 and 50. I can't tell you exactly how many, because they are all over the house- in the diaper bags, the dirty laundry, my nightstand, underneath the couch cushions, in the car, hidden in sock drawers and under the bed, in the tub.. well, you get the idea! These things are used constantly, and not just for spit-up. Spills, throw-up, excessive drool, snot- the burp cloth does it all.
I'm always on the look out for cute burp cloths to stock the diaper bag with-
let's face it, would you rather pull out a cute cloth or a spotty gross thing when you're out in public?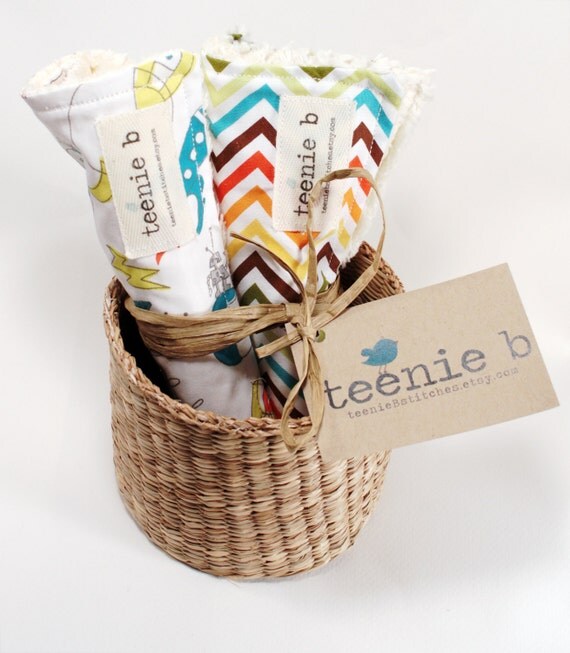 That's why I'm loving these adorable burp cloths from Teenie B Stitches!
Made from 100% designer cottons and super cozy and absorbent chenille. At 19 inches long and 8 inches wide, they're perfect for draping over the shoulder (or anything else you might need to do!).
Teenie B Stitches
is a fabulous little shop on Etsy (based in Minnesota!) that specializes in trendy, hip and eco-friendly burp cloths, bibs and more- perfect gifts for the mama-to-be, or the mama in need of a cheery gift! They also do custom orders, so keep them in mind for one-of-a-kind shower and holiday gifts.
This month we are excited to be giving away a burp cloth set from Teenie B. Easy entry with Rafflecopter- good luck!